The Carpenters
Discography of The Carpenters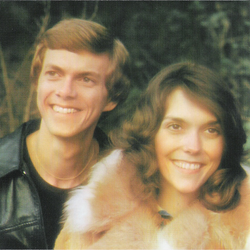 ---
↙
14 studio albums
↙
2 live albums
↙
11 compilations
↙
46 singles
↙
2 box sets
↙
3 video albums
The Carpenters were a popular music group from the seventies. Karen Carpenter was usually the lead singer, although Richard Carpenter, her brother, sang on some of The Carpenters' songs, such as "Druscilla Penny" and "I Kept on Loving You". To date, they have sold 100 million units (including records, CDs, cassette tapes, etc.).
Studio albums
Edit
Live albums
Edit
Compilations
Edit
Box sets
Edit
References
Edit
Ad blocker interference detected!
Wikia is a free-to-use site that makes money from advertising. We have a modified experience for viewers using ad blockers

Wikia is not accessible if you've made further modifications. Remove the custom ad blocker rule(s) and the page will load as expected.